Born and raised in the South, I live in Huntsville, Alabama with my husband Stephen and our slightly feral little boys, Bennett (6), and Jack (2). Our adopted pups Radley and Chase rule our house.

I have a bachelor's degree in history with a minor in English from Birmingham-Southern College; a master's in Reformation history from the University of St. Andrews (Scotland, UK); and a master's in early childhood education from the University of Alabama at Birmingham.
I'm a history nerd with a passion for traveling, books, spin class, and rescue dogs. I'm half-Greek, half-Heard County, Georgia.
I love children, am terrible at math, and get weird adrenaline rushes shopping at TJMaxx.
I cannot put into words just how much I adore my job.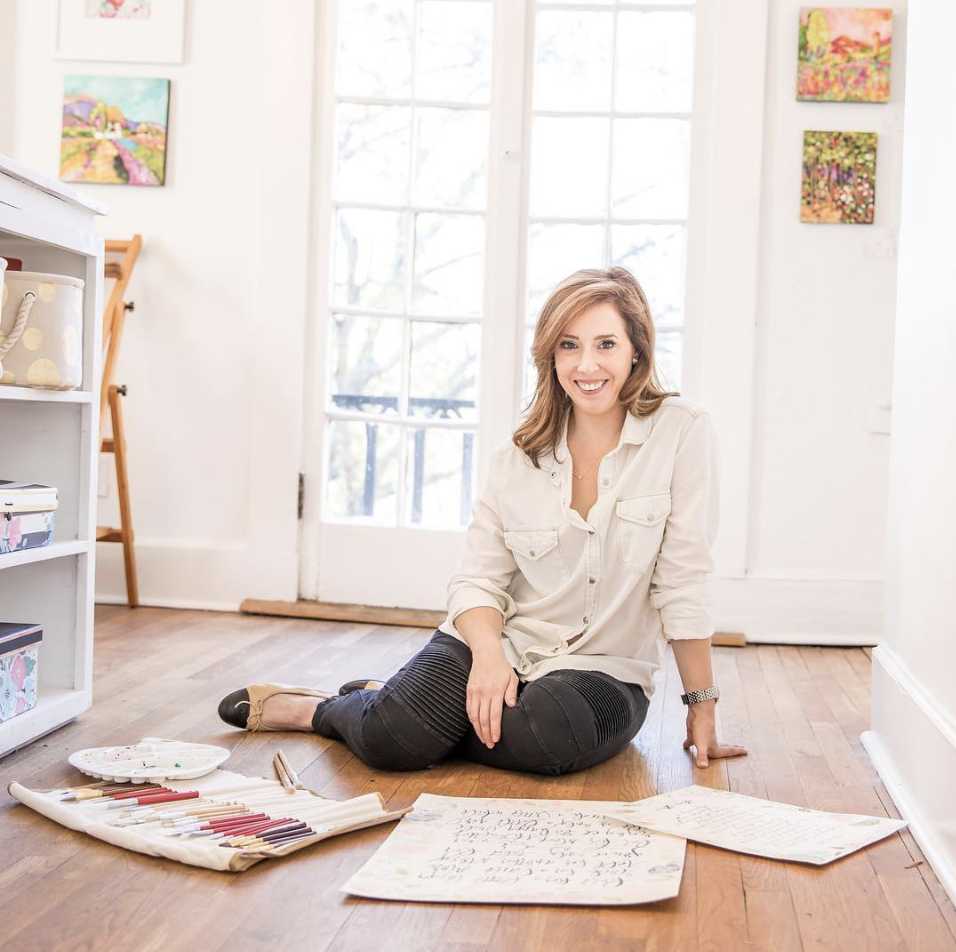 About The Cardinal Collective
The Cardinal Collective began when my now 6-year-old was 2 and and we had just moved to a new city. We didn't know many people, and my husband was tiring of the antiques I was bringing home daily from estate sales... so I thought I'd find another hobby (truly).
I took Melissa Esplin's fantastic Modern Calligraphy online class at night once the rest of my house was asleep, made my mom (a professional artist) give me some of her leftover brushes and watercolors, and started making pieces for friends as baby and birthday gifts. The last art class I took was in 1991, so most of my training is via observation, research, and YouTube. I bought art books at secondhand bookstores and spilled a lot of ink onto our household upholstery. I joined some Facebook groups for creatives and calligraphers and spent hours watching YouTube tutorials on graphic design programs. One night on a whim I opened an Etsy shop, named it after my favorite color and Grandpa's favorite bird, and listed a print. That's how The Cardinal Collective— originally "The Turquoise Cardinal"— was born.

Here's a view of my happy place: my studio space in the heart of historic downtown Huntsville, Alabama. This is where I can put on some Ella Fitzgerald (or Vivaldi... or Pitbull... depending on my mood) and get to creating. My tools are mostly old-fashioned: pointed pens, vials of ink, paint brushes, and lots and lots of watercolor; but they may include the iPad Pro or Photoshop too.

I share a third floor space with Olivia Reed of Olivia Reed Photography, so a perk is getting to see sweet newborns and families have their photos taken in the gorgeous natural light that floods into the studio.
Always feel free to reach out with any questions, comments, or just to say hello!